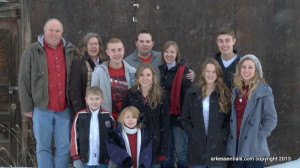 Welcome! Ark Essentials had it's beginnings in 1991.  John and I had a much smaller family back then and lived in Eugene, Oregon.  We bought our first home outside of the city limits, in a small cul de sac with a filbert orchard at the end of the lane and  a horse pasture just over our back fence.  We had chickens, raised rabbits and every time I turned around John had plowed up more grass and increased the size of our garden.  We began sharing our experiences of learning about homeschooling, using herbs, growing as much food as we could, preserving said food and trying to live as economically ( cheaply) as possible.  Ark Essentials started as our newsletter. We had to drive to the library to create our first very humble copies but kept publishing until the beginning of 2001.
John Smith grew up in Portland, Oregon.  He was a cook for the Marine Corp.  After finishing his tour of duty he returned to Oregon and his brother ( also a former Marine) taught him the fine art of butchering.  The two of them cut a lot of meat and raised great tomatoes.
Vickie grew up in Boise, Idaho.  She was the oldest of seven siblings. Due to her practical and frugal nature she graduated from Boise State University in three years debt free with a degree in education.
John came to Utah scouting for a location for health food store and Vickie was in West Jordan, Utah teaching kindergarten.  After a long distance courtship they married and Vickie moved to Salem, Oregon where John was working for Albertsons cutting meat.  John was transferred to Eugene to manage the Springfield meat department.
After 5 years in Eugene we moved back to Salem and bought a small mobile home on 3-1/2 acres.  John was able to grow a huge garden. We raised dairy and cashmere goats and rabbits.  We experimented with a few cows and llamas and chickens.  Our filbert trees, raspberries and strawberries flourished as did our children.  As part of a ten year plan we built a beautiful house and then sold it to finance our move to Idaho.
Currently we live in a small town in eastern Idaho.  John manages the local meat department and I work at our home based business and substitute teach on occassion.